Fall Sports Update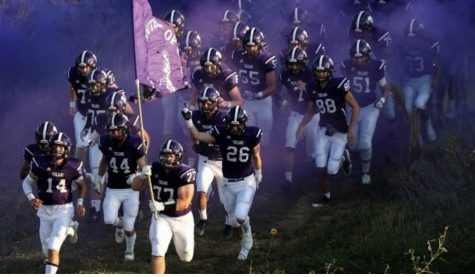 With September coming to an end Football has played 4 games and has won all of them, and Volleyball has had the opportunity to play many teams this season and has battled through every point. Cross Country has also raced in 5 races this season and has placed top 3 as a team in every meet. So far this year football has been undefeated, and we are hoping to keep the streak going for the entire season
Football
So far this season the football boys are on a 4 game winning streak. Coach Gebhardt said, "The players have worked hard and are getting better and throughout the season they have done a good job with working together." The homecoming game against Russel ended with a score of 71-0 with SES taking the win. Overall the team had 53 Tackles with Matthew Rodriguez taking the lead with a total of 8 tackles. Chase Poague led the team with 3 touchdowns, and right next to him Matthew Rodiguez with 2 touchdowns and 1 Conversion. Everybody has their own opinions but Senior, Dalton Bunch thinks that the best game was against Beloit because we haven't lost to Beloit in 4 years and since they are our rival it made it better, and it's always good to beat Beloit. 
Cross Country
The Cross Country team has run in 4 different meets this season. Both the boys and the girls Cross Country team have placed in the top 3 for every meet. Coach Caselman said that the season has been going very well because they have got to see some good competition throughout different meets. At the SES Invitational Jentrie Alderson got 1st place with a time of 18 minutes and 25 seconds. And for the boys, Dylan Sprecker also got 1st place with a time of 15 minutes and 32 seconds. Freshman runner Abby Commerford quoted, "Getting to see friends from other schools and cheering on other teammates," is her favorite part of Cross Country. The runners have many more meets left and throughout those meets, the runners will continue to get stronger and stronger.
Volleyball
As for volleyball, the girl's varsity volleyball team has a record of 8-10. Lexi Jacobson leads the team with 134 overall kills, and Macy Bunch and Reagan Goetz follows her with 70 kills. Coming up and playing varsity as a freshman was a big accomplishment for Christina Wingo. "It feels great because only one other freshman and myself made it," said Wingo. Brielle Ptacek leads the team with 24 aces. Lastly, Karsyn Schlesner has the most assists on the team with 127 assists. Coach Gilpin always tells the girls, "Let's play to win, and not play to not lose." That is a great rule to live by, and especially in volleyball.