Anonymous vaper NJOY(s) stress relief
Vape related lung injuries increase in America
Almost all high school students have heard of vaping and many have tried it. An anonymous Southeast of Saline high school vaper estimates that at least 60 percent of the students at Southeast of Saline have tried vaping. 
This student has been vaping since last year.
"(I vape) to relieve stress during late nights of studying," the student said.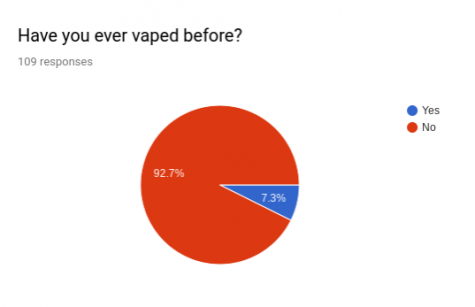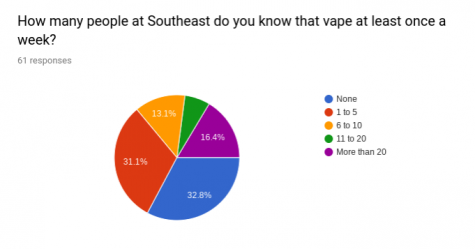 Although the person would not specify how he/she gets the NJOY (the brand of vape) that he/she uses, the student said that it is not easily accessible.
The student was willing, though, to share the frequency of his/her vaping; on average, he/she vapes twice a week and only at his/her house.
"(My parents) do not know that I vape. They would be disappointed if they knew," the student said.
Lately, there have been many stories about people dying or becoming seriously ill because of vaping-related complications, but the Trojournal's anonymous source said that he/she is not worried about health issues that could arise from vaping.
"I stay active, and I don't do it very much, so I am not really concerned," the student said.
According to usatoday.com, being young and active will not protect vape users from having lifelong lung diseases. An article on their website states that there were 805 vaping-related lung injuries and 12 deaths during the week of Sept. 26. 
Thirty-seven percent of people with lung injuries that week were under 21.
"Based on what we have seen in our study, we suspect that most cases involve chemical contaminants, toxic byproducts or other noxious agents within vape liquids," said Brandon Larsen, a surgical pathologist at the Mayo Clinic in Scottsdale, Arizona.
According to medicinenet.com, vaping-related illnesses have been given a name — EVALI which stands for e-cigarette or vaping product use-associated lung injury. 
Characteristics of EVALI include respiratory symptoms such as cough, chest pain, shortness of breath, and gastrointestinal symptoms including abdominal pain, nausea, vomiting, and diarrhea. Other symptoms may include fever, chills, weight loss, and possibly death. 
As of Oct. 17, there had been 33 deaths in the U.S. caused by EVALI.
There have been many lawsuits against vaping companies since the outbreak of EVALI. One of those lawsuits is close to home: A school district in Olathe is suing Juul. According to reuters.com, the Olathe school district accused the company of creating a nationwide "epidemic of vaping" and said it had been "forced to expend significant resources combating this public nuisance."
Southeast of Saline school officer Linda Martinez has observed a lot of talk about vaping in our school. 
"Last year, (students) didn't realize that vaping was bad for their lungs and their health," Martinez said. "This year, it seems to me, like (students) are paying attention to what is going on in the media with vaping."
Martinez said that she would not immediately resort to suing companies, but she would not necessarily be against it either.
"If I knew that we had a high percentage of kids vaping and that we had a very high risk of our (students) suffering from lung damage from vaping, I wouldn't have a problem with (suing a company)," she said.
She feels that the suing of vape companies has brought more attention to the dangers of vaping.
"We might be able to curb vaping at school, but we can't make kids quit vaping. That is a choice they have to make," she said.