Official women's wrestling team arrives at Southeast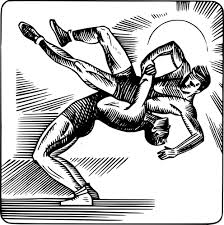 When Marissa Aguilar steps foot on the wrestling mat on Saturday at the Lincoln tournament, she will be the first Southeast of Saline girl ever to be sanctioned by KSHSAA to compete in the newly-sanctioned state championship sport, women's wrestling. 
"A girl in my hometown presented the idea of girls' wrestling. She wanted to not wrestle a bunch of guys because guys are a lot stronger and faster than girls and she believed it was unfair," Aguilar said.
Aguilar may not wrestle against females right away, though. She said that there will be a two year transition period so that girls will still be able to wrestle in the boys' line-up as well as the girls'. 
She added that it is important that the girls get in a good number of matches, so the transition period will ensure that girls will still be able to compete even if other teams don't have female wrestlers. 
Aguilar is the only female on the team, which consists of her and eight male wrestlers. This means that in practice, she will always be sparring with a male wrestling partner. 
She practices against many of the boys on the team, including Gavin Bange, Slade Johnson, and Charlie Weiss. She said wrestling against men could provide her an advantage, however. She believes that generally, boys have more muscle than she does, so competing against them in practice could help her when she has to go against other guys at the meets.
Aguilar said that she believes the team will "do pretty decent throughout the year as a team."
Sophomore Eli Jackson agreed but added that the team lacks experience.
"We are a pretty young and inexperienced team. It is more of a year for learning because there (are) no seniors on the team. I would say it is a rebuilding year," he said.
Matthew Rodriguez, a previous state participant, believes that the season may start off slow, but he is eager to see what the end of the season will look like.
"I am looking forward to wrestling at state," Rodriguez said.
Rodriguez hopes to earn a trip back to the state competition. Aguilar, however, is hoping to have a good experience and carry on a family tradition.
"Three of my siblings have been wrestlers and my dad was a wrestler, so they pushed me out of my comfort zone and convinced me to join," Aguilar said.