Southeast soars towards state
"I feel good about state football this year.  We have to keep playing physical, and keep getting better at practice," said sophomore Eli Sawyers when asked to summarize what has been a so far undefeated season. So far, our boys have played Minneapolis (32-16), Beloit (18-0) Ellsworth (42-0), Russell (60-0), and Colby(32-8). This means in 5 games the football team has only allowed a total of 32 points. The football boys not only believe they can make it to state, but they can also make it to state undefeated. 
Last Friday night the team beat Colby by 24 points, which is notable considering that Colby had gone undefeated before hosting the Trojans. Essentially, both teams had great defense and it came down to who could play faster and better, and the gravity of this victory was not lost on our boys. "Colby was much more competitive, and rough, […] it is fun to play in highly competitive games." Sawyers. 
Being that Covid has made this year a little different for the team they have learned to play like it's their last game of the season. For the seniors this could be their last game wearing the Southeast jersey. "Just this past week beating a very good Colby football team. We traveled 3 hours west and still won. We both had the best defense in 3A and were undefeated, but that still didn't stop us." said Harp.
This Friday, the team was set to play Goodland who is 2-3 and ranked 6 in 3A district 6th but due to the rise in covid cases in Goodland.  "There are some tough teams. Scott City, Goodland, and Smoky Valley all want to beat us really bad. But I feel like if we keep doing what we've been doing, we will keep winning." says Harp.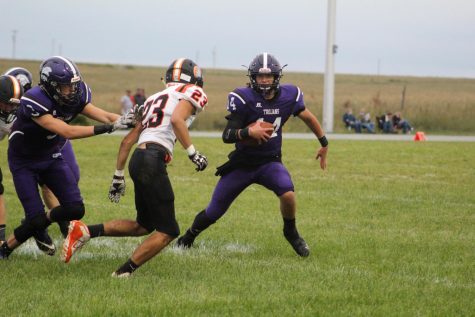 Jaxson Gebhardt Sr.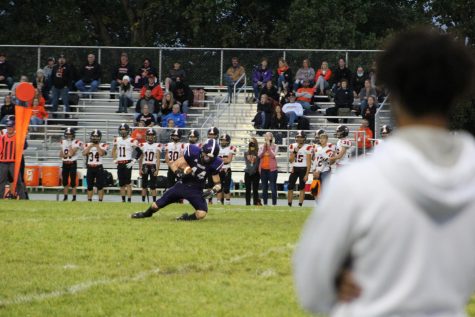 Jaxson Gebhardt Sr.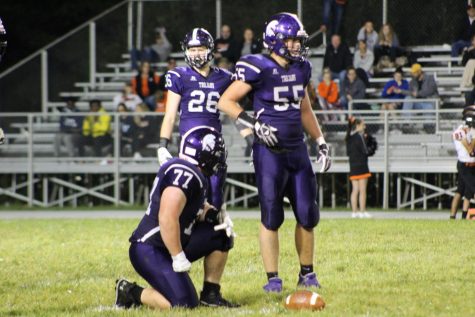 Sr. Eli harris (26), Sr. Sterling harp (77), Jr. Dalton Bunch (55)