Homecoming Undergoes Minor Adjustments
Unlike many schools across the Nation, Southeast of Saline was fortunate enough to have a fall homecoming. Students only saw a few changes to homecoming that were different from previous years. The biggest being the requirement of masks, but wearing masks didn't affect the atmosphere of homecoming week. Students still got to participate in activities they would any other year.
Spirit week started off with a mathlete vs. athlete themed day on Monday, twin day on Tuesday, hippie day on Wednesday, purple out on Thursday, and they wrapped up the week with Kanye Western-themed day on Friday. Overall spirit week had a great turn out, with most favoriting Kanye Western Day.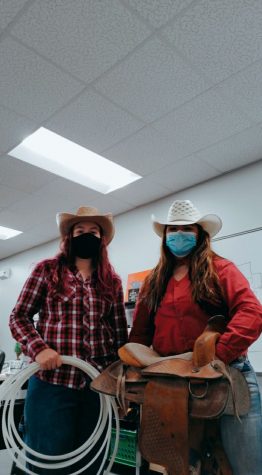 "I liked Kanye Western Day a lot because I could finally wear my (cowboy) hat to school." Rachel Hubele remarked.
Rather than normal hallway decorating this year, StuCo decided to class float competitions. Throughout the week, each class designed a small float based on a Netflix show that was assigned. Freshmen got to decorate a float based off of the show Tiger King, while Sophomores had Stranger Things and Juniors had Outer Banks. The seniors took the win with their "Kissing Booth" themed float.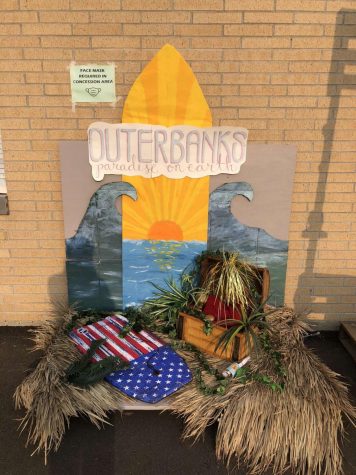 The volleyball and football teams were both very successful during the homecoming week. The volleyball team started off the Homecoming sports week with two wins against Republic County on Tuesday the 15th. During the game Tuesday, the volleyball team also honored their seniors with a senior recognition ceremony. The football team also got the chance to set the mood for homecoming on Friday night, with the team winning against Ellsworth 42-0.
Following the football game Friday night, StuCo hosted a Kayne Western-themed dance on the elementary playground. This year the dance had a little bit of a different atmosphere, but not because of masks, but rather a professional DJ. StuCo made this change after previously just using a playlist, but many thought a DJ helped create a more lively atmosphere.
Most importantly, the Homecoming Queen and King were announced before the football game Friday night, and there was much anticipation leading up to the announcement. DorothyAnn Sparacino and Luke Gleason were crowned as the 2020 Homecoming King and Queen. Students had a tough decision on the vote with possible 2020 Queen candidates being Sydnee Poague, Luisa Ortega, Mackenzie Boley, DorothyAnn Sparacino, and Makenna Bartholomew. The King candidates being Jaxson Gebhardt, Tyler Breeding, Luke Gleason, Eli Harris, and Bryant Banks.