High school play takes a turn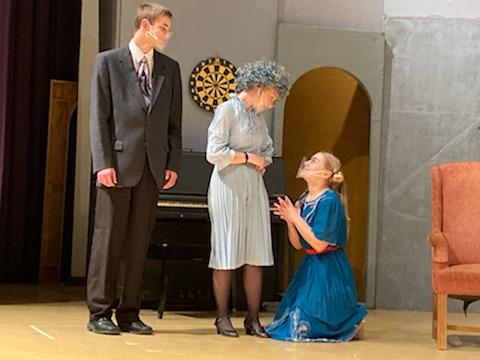 It's the end of the show: the stage lights come up, music plays, the cast does their bows, and the audience roars. Well, not really. This year the roaring audience consisted of about twenty people. 
Performing arts are vastly different from sports in that "performance" is typically one weekend, opposed to sports usually being at least once a week. Actors spend approximately two months preparing for three shows, and typically, due to rarity of the occasion, the house is packed.
This year, however, things were different. Attendance was limited to four family members per person, making for an usually quiet crowd. This led to quite the different experience for many actors on stage.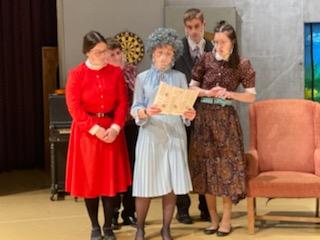 "I didn't get the usual satisfaction I normally get from performing," said junior Treyton Sutton, who plays Samuel. "Usually we work really hard and then there's a large audience that laughs and cries make the experience very rewarding, but we didn't have that this year. Performing sort of felt like another practice, and that was something that needed some adjusting to," said one cast member. 
Another important note is that two sepa
rate casts were operating simultaneously, ready to replace one another should someone fall ill. This allowed for a lot of new faces to be introduced to the drama department, including Mara Mondt, Austin Hanson, Addison Gottschalk, Kayleb Qualls, Erica Francis, and Sherida Johnson. This will be the last show for seniors Dorothy Ann Sparacino, Kennedy Gottschalk, Drew Hanson, Makenna Roths, Amber Beaumont, and Luisa Ortega.
The play itself follows the story of Ms. Ethel P. Savage, a recently widowed mother whose children are determined to get their hands on the lucrative Savage estate that she intends to give away. The children send her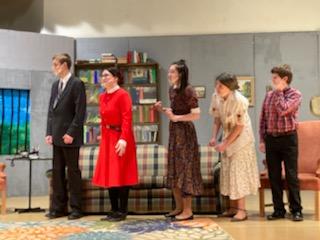 to a psych ward to "cure" her, where she meets a variety of intriguing characters that help her navigate and fight off her greedy children. 
"It's a nice play, and it was good for this year given the circumstances. The set is simpli
stic and the story is easy to follow. Of course it would be hard to follow up the play done last year, The Boys Next Door, as it was really good, but things turned out great given the circumstances," said assistant director Luisa Ortega. 
This has been the only performance of the year, but uncertainty remains over whether it will be the last. The typical schedule is a musical in the fall, a one act in December, and an all school play in February. A musical could not be done in the fall, and it's still up in the air over whether one will occur at the end of the year. Whether the musical happens or not, actors in the drama department will at least have one more chance to prove themselves at the state forensics competition, which will be done virtually May 1st.