Seniors win Earl Bane scholarships with essays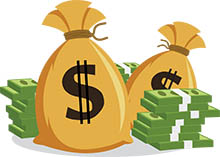 Seniors Joseph Anderson, Emalie Hall, and Drew Hanson have hit the jackpot for the earl bane scholarship. Last Monday, the three seniors received letters in the mail telling them they would receive $20,000, spread out as $5000 per year. 
Joseph Anderson will be attending Kansas State University in the fall. 
"When I found out I got the Earl Bane Scholarship I didn't comprehend how much it actually was. I guess I'm still surprised but nonetheless this will help me greatly to become a mechanical engineer," Anderson said. 
Emalie Hall will be using her scholarship to pursue a career in nursing.
"What I plan on doing with the scholarship is of course is putting it towards college to get my nursing degree. This money will help me take the classes I want to take and it will help me with the textbook fees needed for certain classes," Hall said. 
Hanson will be attending the University of Kansas, where he will be pursuing a pre law track, studying political science and film. 
Applicants are required to write an essay displaying enterprising potential. The essay is known to be a large component in the decision making process. Also required is a resume, scholarship application, three letters of reference, and an official transcript. Below are the winning essays. 
Emalie Hall, 2021 Earl Bane Scholarship
A time where my work ethic led to a positive outcome was when I won class champion steer with my black angus calf. If you don't know what a steer is, it is a castrated bull calf. I am involved in 4-H and every year I like to show cattle, specifically market steers. My dad and grandpa own a herd of cattle and every fall I go out and pick out two calves that I think would do good and be beneficial in the Tri-Rivers Fair in Salina, KS in August. I also have my dad go with me when I pick out the calves so that way there are two different opinions and we can agree on things about the calf and also agree on them. Fast forward to a couple years later and I found this medium sized steer calf that I really liked. I asked my dads input on him, and my dad thought he was a good looking calf. When weaning season came around we kept him up by the barn so that way I could get to working on him. I worked with him from the fall till fair time everyday for about 2 hours each day. Every day I would wash him off with soap and water and then blow him dry. The reason why I would wash him off everyday is so that he would gain trust in me and get use to me. With these animals you need to build trust with them or they won't cooperate with what you want to do. Spending quality time with your animals is always beneficial. Fast forward to August and it was fair time. It was the morning of the steer show and of course I was nervous. Talking to my steer usually calms my nerves (even though he isn't human). We were in the show ring doing our thing and next came when the judge would pick the winner of the class. He decided to put me first. I was freaking out at this point because I thought the ones that were picked first were very last place. The judge then placed the rest of the class. The judge then started out his reasons with the most recent person that he placed. I then realized that my hard work paid off. I had just won the class! The amount of time that I had spent with that calf was beneficial and worked out! 
Joseph Anderson, 2021 Earl Bane Scholarship 
Before highschool I got C's and D's on every grade card. I didn't take school seriously and because of that I barely got by. My Dad didn't really check on my work, he would just ask if I'm doing good. Once I got to middle school my Grandma got wind of my bad grades. She immediately started attending my classes with me to see what was causing my bad grades. As a 13 year old I did not like being watched all day in school; when my Dad asked if I didn't like her being at school I easily said yes. I know they both loved me and were trying to do what was best but my Dad went about it aggressively. After an argument between them things cooled down. 
In 8th grade I had to move out due to bugs, so I moved in with my Grandma who lived out of town. Now I had more rules and responsibilities along with way more consequences. I finished 8th grade then switched schools. I gave my Grandma so much trouble that I almost moved back with my Dad half way through 9th grade. I made it so far as actually getting dropped off with all my stuff. That was when everything made sense; all the rules and responsibilities were to make me a better person. It was to make me grow up and work harder.
I thought about life at my Dad's where I didn't even have a bed. I dropped my pride and made the decision that was best for my future. I called my Grandma and pleaded she take me back. She said I could but only if I made a plan on how I was going to change. From then on my work ethic has been on point. Procrastination is a shovel you dig yourself into a hole with. Work ethic is just another word to describe how likely you are to fight to stay above ground. Now I'm a senior doing school from home and preparing to go to college. The result of my change in work ethic made me strive for the future that is the brightest.
Drew Hanson, 2021 Earl Bane Scholarship "Embrace the Suck"
My name is Drew, and I'm not supposed to be writing this essay right now. Actually, I'm not even supposed to be on the continent. Had the world not plunged into catastrophe, I would likely be in Germany having a friendly conversation in a language that isn't my native tongue. 
Growing up, I rarely yearned to escape the warm arms of conformity. That was until I was recruited to the cross country team. If you haven't been to a Kansas cross country practice, running six miles in the ninety five degree heat isn't exactly enticing nor comfortable. 
One day, as I trudged up what seemed like an endless hill, my coach looked me in the eye and hollered "EMBRACE THE SUCK!". The coach probably doesn't know this, as I merely wheezed out a breathless "yes sir," but I took this to heart. The things I learned that season taught me numerous life lessons that would benefit me for years to come. 
I learned you can't avoid hills, so use them as an opportunity to pass people. I learned that every runner counts; if one guy gets left behind, the whole team falls behind. I learned that without long runs, you won't reach your full potential. In other words, I learned that obstacles in life are inevitable, so take them on with an open mind, and use them to your advantage. I learned that working together with my peers results in a better outcome. I learned to challenge myself often to reach my full potential. Most of all, I learned that with every challenge, you win even if you lose, so "embrace the suck" and use the experience to excel. 
The reason I'm not supposed to be writing this is because I took the lifestyle of unconformity and stepping outside my comfort zone to heart, and was accepted to be a foreign youth ambassador for the United States State Department. Although it "sucks" the opportunity was cancelled due to covid, if  you would have told eighth grade me I would win three state cross country team championships, be a state forensics finalist, transform the school newspaper, or would be selected as an ambassador, I would not have believed you. I will continue to practice this philosophy of "embracing the suck" in uncomfortable situations in college, law school, my career, and life.