Seussical the Musical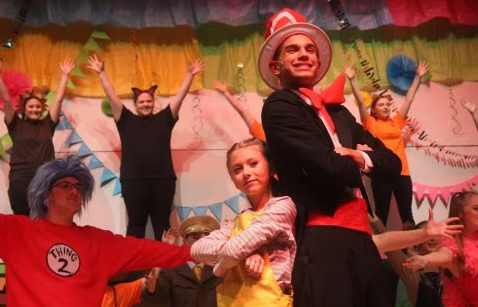 Lights, camera, action! On Thursday, November 11th and Saturday, November 13th, the SES high school, with the help of select 6th grade students,  performed Seussical the Musical.
The musical was directed by Mrs. Boley and told the story of Horton the elephant (played by Junior Blaise Alderson), a young boy named Jojo (played by 6th grader, Olivia Swenson), and The Cat in the Hat (played by senior Ben Monday.) 6th grader, Olivia Swenson, made her SES musical debut. 
The story is set in The Jungle of Nool and Whoville, where Horton the Elephant hears the microscopic Whos calling for help from a speck on a clover. He sets off on a mission to help the Whos, but is quickly targeted by The Sour Kangaroo (played by senior Meagan Roths) and the Wickersham Brothers, a pack of monkeys played by Senior Hart Nurnberg, Senior Wyatt Farmer, Sophomore Josiah Monday, Sophomore Luke Obermeyer, Sophomore Greyson McVay, and Sophomore Alex Christensen.
Meanwhile, down in Whoville, Jojo (the mayor's son) is being instructed by The Cat in the Hat and is taken on wonderful adventures that are all inside his head in the form of "thinks". When Jojo's parents find out that he is struggling in school and thinking too many extravagant "thinks", he is sent to military school, where he is taught how to fight by General Ghengis Khan Schmitz, played by junior Matthew Redden. 
In the end, Horton convinces all of the other animals that Whoville was real by having all the Whos shout loud enough for everyone to hear. With the help of Jojo, who escaped military school and was reunited with his family, the Whos were successful in producing a thunderous shout. 
There were also many other prominent characters, such as Mayzie LaBird, played by Junior Kyler Boley and Gertrude McFuzz, played by Sophomore Sherida Johnson. 
With 60 students and over 120 costumes, this was one of the toughest performances SES has done in years. "The most difficult part was probably organizing everything. It was hard because there were so many people in the show, but I think in the end it all came together well," said Mrs. Boley. 
Many hours of work were put into the show, including lots of late night practices. The students practiced every night the week before the show from 6:30 PM to 9:30 PM. Although it was a lot of work, it all paid off the night of the first performance. 
"After stressing over the musical for weeks, it was really good to see it all come together in the end," said Kyler Boley. "I think that everything got pulled together nicely and I am really happy with the outcome of the show."