History of the Smoky Valley & Southeast Rivalry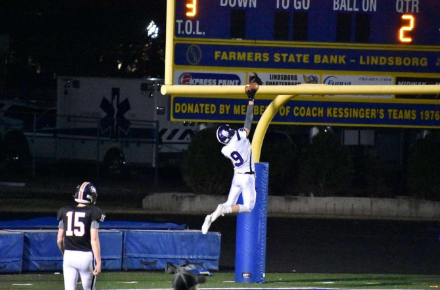 Most Southeast of Saline students have heard that Southeast has some enemies when it comes to sports, especially football. Sacred Heart, Smoky Valley, and Beloit have always been some of our main rivals, but Smoky Valley takes the title of most bitter. "For the second straight season, Smoky Valley finished with a 3-6 record. However, one of those games was quite eventful. Head coach, Tim Lambert, recorded his 200th victory last fall. According to a 2021 KSAL report, Coach Lambert is back for his sixth season with the Vikings, 28th overall, with six starters returning on both sides of the ball." (KSAL) For Southeast of Saline, the 2021 football record was 11-1. Going into the 2022 football season, Coach Mitch Gebhardt will be entering  his 7th consecutive season coaching for the Trojans.
Digging into the past, you'll see that Southeast hasn't always been entangled in a rivalry with Smoky Valley.  "It started when Michael Murray, a Southeast of Saline sophomore at the time, dunked on the field goal after scoring a touchdown,"  says Emma Lippold. Lippold continued to recount that, "… a mother of [a player]  from Smoky Valley [created a post] on Facebook about how [Murray's action] was inappropriate."  After that night, tension could be felt between the Trojans and the Vikings. They would make remarks to our football team players about reporting their behavior to KSHSAA (Kansas State High School Activities Association). "One of the Smoky Valley  football players was talking to Caden Isaacson on the football field, saying that he was going to tell KSHSAA that our school wasn't following the rules and acting racist,"  replied Keiran Douglas on that topic. These serious claims were never substantiated, and no evidence of these accusations was found.
"At football games against the Vikings after that, Smoky Valley's entire student section made posters that said "Rule #52" on them,"  Emma explains. Rule #52 states that "In regard to 52-1-1a – Be courteous to all (participants, cheerleaders, coaches, officials, staff and fans)." (KSHSAA) Emma then goes into further detail saying, "I posted a picture on Instagram after that football game, and someone from Smoky Valley copied and pasted the whole KSHSAA rule #52 in my comment section on my post. My comment section was a frenzy after that. Every time that we play against the Vikings now, they always make a huge fiasco." 
Both of our schools are very competitive when it comes to sports; we all have a passion to play. However, once someone messes with one of us,  our whole school jumps to defend one another. That being said, we wouldn't want it any other way. We love the adrenaline rush running through our veins as we cheer in the stands hoping for a Southeast of Salina victory once again.