Back to School Bash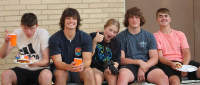 In May of 2022, Student Council (Stuco) elections were in full swing. Jase Vanamburg was elected Stuco President Drake Augustine was elected Vice President. Every year, campaign videos are put together to provide the student body with plans for the year. One of their campaign ideas included the Back to School Bash to start the year off with a bang.
During the summer, the boys and their executive board (including Jase Vanamburg, Drake Augustine, Brenna Felzien, Ava Mayginnes, and Cali Augustine) got to plan a fun get-together to launch the 2022-2023 school year. Plans included a bouncy house, cornhole, spike ball, ladder golf, and food. They thought a fun way to include the administration was to have them grill for us. 
Following the Back to School Bash, a Google Form was created to hear the student body's opinion. Most of the student's favorite part was hanging out with their friends after the summer. Other students' favorite things were cornhole, the bouncy house, and the food.