FFA members participate in "Drive Your Tractor to School Day"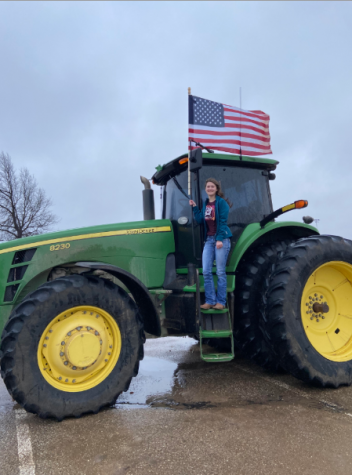 A mass of machinery will pepper the parking lot Monday morning as students plan to drive in on their tractors and possibly other farm machinery.
National FFA Week will be starting this Saturday and throughout the week, and FFA is hosting the tractor event and other activities in hopes of bringing awareness to the club.
FFA member Kirsten Heimer said she had heard of other FFA clubs from different schools hosting a "Drive Your Tractor to School Day" and wanted to implement the event at our school too. Another FFA member, Karson Hall, said that the tractors are a good way to start a conversation about why FFA is important to members of the club.
"I feel like driving a tractor to school is just a cool opportunity for us FFA members to do something fun and new for the beginning of FFA week," Hall said.
Hall's tractor can only reach a speed of 20 mph, so he thinks it will take a significantly longer time than usual to make it to school. His sister Emalie Hall agreed, saying she thinks it will take well over an hour to drive a tractor from their home to school.
In addition to the Halls, Bryce Cooper, Kaden Lambeth, Kirsten Heimer, Clayton Meier, and Collin Mills all plan to drive their tractors to school on Monday.
"I am not very nervous to drive the tractor because we drive much larger equipment on busy roads all the time," Kirsten Heimer said.
Many other activities will be happening during the week. 
On Tuesday, the club will be organizing a Supporters' Breakfast. This breakfast is for anyone that supports FFA such as staff, parents, and community members and businesses.
"I really enjoy seeing all the community members that come to the school. We get to see the teachers every day, so getting to see our other supporters that live in the community is so much fun. A lot of them have been through the Ag program themselves, so it's fun to see them look around the room at all the things that have changed since they graduated," SES FFA president Abby Johnson said.
FFA students will be wearing their club shirts on Wednesday to support the club and visit a nursing home at Bethany Home.
The Annual Labor Auction will be hosted on Thursday in the theater. Members are auctioned off to people in the community for eight hours of labor. The money made from the auction will go to the seniors who participate in the auction as scholarships towards their college career.
"It is fun to get to know people in the community and (to get to know) our supporters a bit more," Madison Lawson said.
To finish off the week, members are heading to the Alley to bowl. The bowling event is being sponsored by the Saline County Farm Bureau to help support our FFA club.