Two prominent athletes suffer early season injuries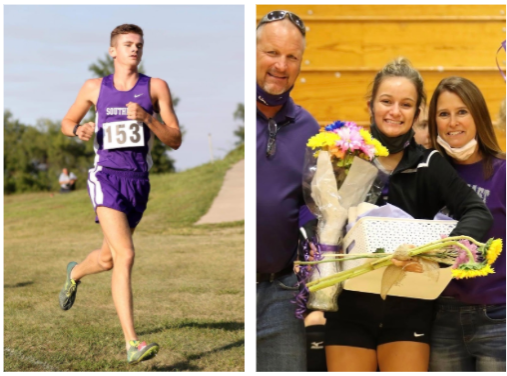 On Tuesday, September 15th the Lady Trojan volleyball team face off against Republic County on senior night. Sydnee Poague was lighting it up and even executed six kills, but while going for her seventh hit, she went down hard. She spent the entire next day anxiously waiting to get her MRI results back, and when the results finally came in, she was devastated: she had a torn ACL/meniscus.
 "When the doctor told me that I tore my ACL, my response was, are you joking?  But he was not," senior Sydnee Poague said. ACL tears often result in six months of recovery and lots of trips to physical therapy, so unfortunately Sydnee's volleyball season is over and her track season is jeopardized.
"If I am being honest I could not eat or focus for a few days because the thought of my senior season possibly coming to an end is just so hard to think about. I loved the game of volleyball so much and we were just getting comfortable with each other and playing together very well, but I am excited to see what my team does because I know they will do great." Poague said.
 Sydnee has already started physical therapy, this can strengthen her leg and modify the swelling so that way she is ready to go for her surgery on Friday. 
"I am kind of nervous because I am going to be in crutches and a straight leg brace for a very long time, and since it is my right knee I will not be able to drive" Poague said. 
Unfortunately, junior Dylan Sprecker has also suffered an early season injury.  Sprecker was competing in Abilene when he suffered a fracture. When asked to describe the nature of his injury, Sprecker responded, "I got an acute fracture in the second metatarsal during a XC race. It was courtesy of a wood chip stuck into my spikes," Sprecker said. Before his injury, Dylan was ranked as the top runner in 3A, fresh off a state title. Luckily, Sprecker is on the road to recovery and is hoping to get better before track season. "I train year round, but my foot should be okay by then," Sprecker said, meaning he should be ready to go again for regionals. He expressed how he considers his injury to be a "minor inconvenience, but nothing too serious," which is great news for the cross country team. When asked about what he is doing to get himself back into running shape, Sprecker responded: "I do pool workouts at the YMCA six days a week."
Although Poague and Sprecker have suffered with early season injuries, both are on the road to recovery. They both have detailed plans to stay in shape and to remain healthy for when they return to competition. The SES sports community will anxiously anticipate their return to play.