FCCLA challenges students to make an impact
We all love some friendly class competition, but it's even better when you are helping out your community. That's what FCCLA is doing with their food drive they are hosting. Mrs. Wilson's leadership students took the initiative to raise awareness in our communities about the needs of others. 
"Our leadership class and FCCLA chapter chose our main community service project to be helping those in need in our community," Leadership student Morgan Albrecht said.
One way they thought to do this is by holding a food drive. However, they didn't want it to be just a normal food drive, so they brainstormed ideas on how to make it more fun. The class came up with the idea of having each seminar bring their non-perishable items into school and fill up a locker with their seminars name on it. The food collected will then be taken to the new food bank starting up in Assaria.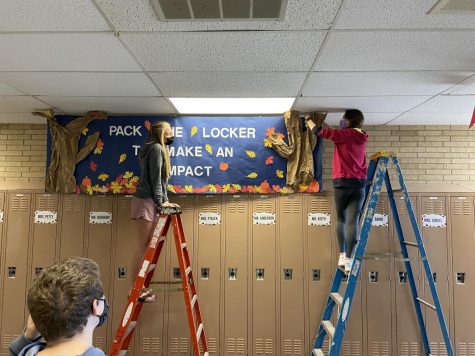 "One way to help our service project was to host a food drive in our school. The food donated allows us to help out the new food bank starting in Assaria," Albrecht added.
The idea of filling the lockers came about after they realized that there is no need for the lockers to sit empty, as they have been so far this year due to the Pandemic, so the FCCLA students thought they might as well get some use out of them. 
To thank all of the students that contribute to their locker food drive, FCCLA wanted something that students will enjoy, so the seminar with the locker that is most full will receive an ice cream cake. They wanted to include all of secondary school, so even better, they will be giving out a senior high and a junior high prize for the top winner. 
But the creativity of the FCCLA members doesn't stop there. To win another prize, seminars can go all out and decorate their locker to get students into the holiday spirit. The seminar with the best-decorated locker will also receive a prize, so find a friend in your seminar and make a plan to decorate your locker.
The food drive and decorating competition will end on Nov. 19, just right before students head out for Thanksgiving break. 
Besides hosting a food drive, FCCLA is also helping the needy in our communities by creating a "Get A Meal, Give A Meal" service project. With this project, each month FCCLA will decide on a meal to sell to families in our community. With the profits raised by the meals sold, FCCLA will be able to cook more meals to take to places in our community that serve the needy such as The Ashby House, and The Rescue Mission. For more information on their upcoming meals, keep an eye out on their SES FCCLA Facebook or Instagram page where all of the information will be posted. Albrecht ended with:
"It is especially important to help those in need during the current challenges everyone is facing."