Sterling Harp prepares for college dreams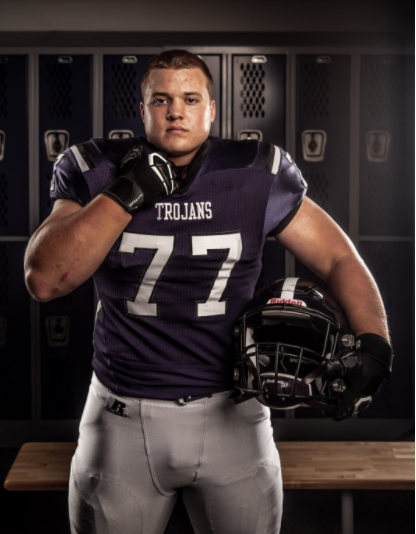 With the wrestling season already upon us, the team has seen the departure of a key member and expected state qualifier, Sterling Harp. Deciding not to participate this year in order to prepare for his first collegiate football next year was a tough decision for Sterling to make, which he indicated in an interview with the Trojournal staff. Sterling stated the following when asked about his choice:
 "With me being a multi-sport athlete, I knew if I was going to college on a scholarship, I was going to have to pick the sport I love the most. I have played football since second grade and it has always been my love and passion. I always liked wrestling because it made me a better football player, but I decided last summer that I was going to play football in college." He also mentioned that although he isn't wrestling himself, he watches his old teammates wrestle online.
Sterling stated that the primary reason he decided not to wrestle this year is because he didn't believe cutting weight for wrestling would give him the best opportunity to be in the best shape possible at the onset of his freshman football season. Other contributing factors in Sterling's choice to forego his senior wrestling season were the several rule changes at the beginning of the season and a recent, newer change. Changes include smaller, more regional tournaments and a more crammed season that brings regionals and further progressing tournaments closer together, thus not giving a lot of time to practice in between. These changes were introduced in order to best fit the precautions needed to keep as many players and coaches safe. Presumably, the changes cause the energy and feel of the sport to shift, not feeling as full as when they're not under any precautionary regulations. Sterling shared his take on the rule changes put into place this season:
"Covid really didn't affect my choice to wrestle, but KSHSAA changing the rules for covid did make an impact on my decision. KSHSAA set rules at the beginning of the season, and now a few weeks into the season they changed the rules (again). There could be even more rule changes before the end of the season."
Although not participating in wrestling this year, Sterling has kept himself in football shape and continues to prepare for college. He has been taking college classes since last summer, while also becoming a teacher's aid for the Phys. Ed teachers, Mr. Ptacek and Mr. Gebhardt. Along with being prepared for his classes, he will be training and working to prepare for his upcoming freshman football season. This hard working senior is known for putting a goal to mind, and letting nothing get in the way of him achieving it.
 "When I set a goal, I work hard to obtain it," says Sterling.
While Sterling prepares for college, we at SES wish this hard-working athlete and student the best in his future. Currently, Sterling is entertaining offers from Concordia University(Seward, Nebraska), McPherson College, Southwestern College, Ottawa University, and Kansas Wesleyan.