SES seniors commit to post-secondary athletics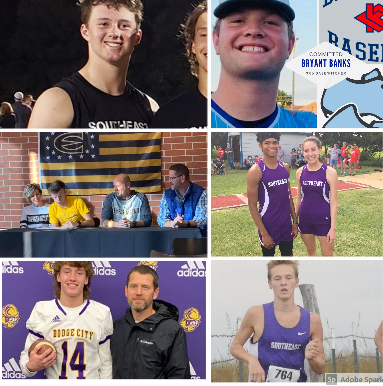 With graduation just around the corner, several SES senior athletes have already chosen where they want to continue their athletic careers. On February 3rd, a date known as "National Signing Day," several SES students inked their signatures on official letters of intent to continue playing at the next level. As of February 24th, seven athletes have committed or plan to commit. Those athletes include: Jaxson Gebhardt, Eli Harris, Sterling Harp, Eddie McVay, Luke Gleason, Dominic Jackson, and Bryant Banks.
Jaxson Gebhardt has signed to Dodge City Community College for football as a Defensive Back. Gebhardt, with 6 offers, made this decision because he liked the coaches and the facilities they have to offer. He is majoring in Ag Business and is excited about playing at the next level.
Eli Harris has signed to Kansas Wesleyan University for baseball as a Pitcher. He is excited for his tuition to be paid for through the school and being PO (pitcher only). The biggest struggle he has to encounter is getting a spot on the varsity team.
Eddie McVay is planning to sign to Fort Hays State University for track, focusing on triple jump. He chose FHSU because "it's cheap, is known to be fun, and (he) likes their track jumping coach." With five offers, he is excited to see how much he can improve within his college career. He thinks that the hardest part is going to be staying responsible with all the distractions of college life.
Dominic Jackson has signed to Emporia State University to run cross country and track. He fell in love with the family environment from the team and coaches. It also fit well with his major in Physical Education. He is most excited to compete with other D2 level runners, but that is also what he is most nervous about. "Coming out of high school, I was always one of the top runners and loved to lead the pack but I'm gonna have to put up a good fight through the years to get up there in college," said Jackson.
Sterling Harp has signed to Concordia University to play football. With seven offers, he believed that Concordia was best for him academically and athletically. "It felt like home," said Harp. He is excited to learn new plays and make new friends. Although he is excited for a new school, he thinks the hardest part is going to be adjusting to a new state and new surroundings. Seward, Nebraska is about a 3 hour drive from Salina. Harp is the only one (so far) who is attending an out-of-state school for sports.
Luke Gleason has signed to Emporia State University to run cross country and track. Although he is nervous about balancing out the student athlete life, he is excited to meet more people and grow as a person. He also got an offer from Missouri West, but he felt he belonged at ESU and he really liked the coaches.
Bryant Banks has signed to Kansas City Christian College, where he will serve the time as a 3rd baseman and pitcher. During his time at Southeast of Saline, Bryant has been a member of the baseball team for four years and has had an impressive career despite missing out on his junior season last year due to the pandemic. Bryant plans to major in accounting. 
Congratulations to all the athletes who have signed and who are planning to sign soon. SES is very proud of having so many students not only furthering their education, but also continuing their athletics.