Basketball boys battle to the end
The Southeast of Saline boys basketball finished the season very strong with state ranked Hesston in the sub-state quarterfinal. If we take a look back at the beginning of the season, Southeast played Hesston for the very first game of the season and lost in routing of 71-34. Fast forward about twenty games later, the boys once again traveled to Hesston on March 6th, falling to the Swathers 51-40 in a hard-fought, close game. 
"We played really good from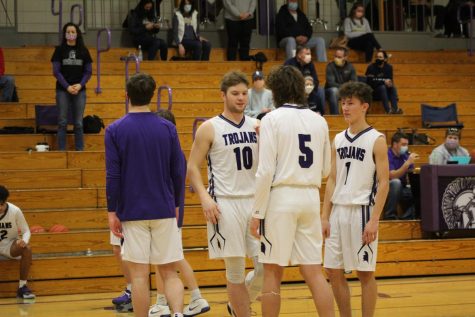 the first half into the 3rd quarter, but Hesston shot a few 3's that made them get up by quite a few points the last three minutes of the quarter." Sawyers said. 
The game was very exciting to watch because the score went back and forth and there were a lot more fans in the gym. 
"It was fun to play because the atmosphere of the gym was great with having more fans then what we've had all season, it was good to hear them cheering us on. Whenever we got up, the boys and I were very excited." Cam Lund said.
With six seniors on the team this past season, the team will miss their presence next year. The most significant characteristic of this year's senior class was their all-around versatile athletic ability, as seniors Jaxon Gebhardt, Bryant Banks, and Eli Harris have all signed to play collegiate athletics. It was this athletic ability that carried the boys throughout this successful season, as they finished 14-8 on the season.
Although the seniors will be missed, the sophomore class is an experienced, talented group and will be more than capable of filling the shoes of this year's senior class. Next year will feature the return of starters, Eli Sawyers and Nakari Palmer. This group of boys have been playing basketball together for a very long time and keep improving each year. Long story short, the future is bright for the Southeast of Saline boys basketball program.