SES seniors receive variety of scholarships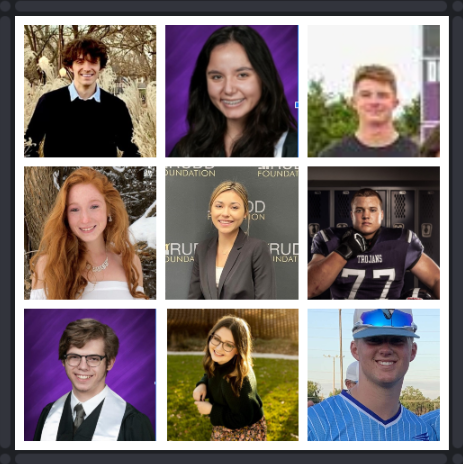 As the school year begins to wind down for the senior class, we celebrate their accomplishments they have made in preparation for their post-secondary pathways. They have worked vigorously to obtain scholarships and financial aid for their years to come. Their hard work has paid off, giving many an advantageous push towards college education. The Trojournal staff would like to not only honor these students for their achievements, but to also provide the public with a concise list of their well-earned scholarships. The list below shows seniors who have already received scholarships for their post-secondary education. 
While we celebrate the seniors, we must also thank Mrs. Haden for creating and sharing this information. Along with this, it should be known that this list may be incomplete, and that you are free to send us information regarding students' scholarships that are missing from the list.
Anderson, Joseph – Received the $10,000 Wildcat Traditions Scholarship, $1,000 Carl R Ice College of Engineering First year scholarship, and the $20,000 Earl Bane scholarship.
Banks, Bryant – Received a KCKCC baseball scholarship
Beaumont, Amber N – Received $600 from Pittsburg State University Choir, and $1000 from UMB Bank
Breeding, Tyler – Received $26,000 Dane Hansen Scholarship
Dewhirst, Kylar – Received For Hays Black and Gold Scholarship
Elkins, Kanin – Received Early Action Scholarship for $1000/year
Gebhardt, Jaxson – Received DCCC football scholarship
Gleason, Luke – Received $2000 athletic scholarship to run track and xc at Emporia state
Gottschalk, Kennedy – Received $8000 Dane Hansen and $15000 Tiger Pride Scholarship
Hall, Emalie – Received $20,000 Earl Bane Scholarship ($5,000 a year) and $2,000 Black & Gold Scholarship Fort Hays State University
Hanson, Andrew – Received KU Pell Advantage ($11,166/Year), Earl Bane Foundation Scholarship $20,000 ($5,000/Yr), Dane Hansen Scholarship $8000 ($4000/Year for two years), and VFW Voice of Democracy Essay Contest 3rd Place in Kansas (About $1000 total)
Harp, Sterling – Received Concordia University Dean's Scholarship- $14,500, Concordia University Football Scholarship- $5,000, and Concordia University Grant- $4,030
Harris, Eli – Received $25,000/year Athletic Scholarship to play baseball at Kansas Wesleyan University
Humphrey Jadyn – Received $4000 Rock Chalk Scholarship
Isaacson, Bree – Received Dane Hansen CTE – $8000
Jackson, Dominic – Received $8000 athletic scholarship to run cross country and track at Emporia State University
James, Sadie – Received $70K Rudd Scholarship
Johnson, Keenan – Received $500 from Salina Area Technical College and $400 from First United Methodist Church
Kuhn, Rebecca – Received $12,000 Merit Scholarship ($3,000 a year) from Wichita State University, $500 scholarship from Wichita State University for competing in the Distinguished Scholarship Invitational.
McQuillan, Taylor – Received $8000 Dane Hansen 
McVay, Edward – Received FHSU track scholarship
Ortega, Luisa – Received Self Engineering Program Scholarship – $28000
Roths, Makenna – Received DS&O – $1000, Arthur W. Gibson Memorial Endowed Scholarship – $2113, Walter A. Ver Wiebe Scholarship/Fellowship – $1031, Ivy A. Monk Trust Scholarship Award – $2000,
Dane Hansen – $26000, 2021 Scott Mecham BBB Student of Integrity Awards Scholarship $2,000, and US JCI Senate Foundation Scholarship $1,000
Sanders, Logan – Received Vanier Scholarship
Stumpf, Grant – Received $8000 Dane Hansen
Thompson, Eric – Received Autobody & Collision Repair Technical Certificate from SATC