Running To The Top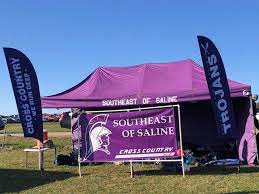 The SES Cross Country teams have established themselves as not only one of the top teams in 3A but as one of the best programs in the entire state of Kansas. The boy's team has won three straight team titles in a row. Last season, the girl's team took home the title, as well, after finishing as the runner-up in 2019. Both are looking to add to the title collection this season. 
With high hopes coming in, both teams lived up to the hype by being ranked #1. Week in and week out, the Trojans have been working hard to finish the season that way. On the girl's side, in Class 3A no one is coming near them to this point. The boys were knocked down to second in 3A but were also able to defeat Buhler, 4A powerhouse. With this being said, they will look to close the gap and regain the top spot.
On September 21, SES hosted its home invitational. Throughout the day, six Trojan runners (7th grader Regan Duran, 8th grader Jacob Bircher, 9th grader Ben Heinrich, 12th grader Mallorie Pearson, 12th grader Jentrie Alderson, and 12th grader Dylan Sprecker) were crowned individual champs in JH, JV, and Varsity races. Team-wise, the girls took first by a mile, and the boys were narrowly defeated by Wichita Trinity. A team they will look to get revenge on by the end of the season. The meet was all kicked off by the Mighty Mini Trojan Fun Run, where elementary students got the chance to showcase their XC skills. Hopefully, some were inspired to be the next great generation of Trojan runners!