How Railroad Companies' Treatment of Workers is Literally Derailing Them.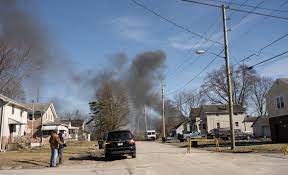 There is no doubt that news in America throughout the past couple of weeks has been overloaded with stories of Chinese spy balloons, UFOs being shot down, and various other shocking events, though surprisingly, there is a series of events that have been taken with little to no concern; the various accidents involving trains and semi-trucks spilling hazardous materials all across the country. From Ohio to Arizona, these accidents and the issues preceding them simply need to be talked about more. 
Most importantly, it should be recognized that the news is in fact reporting largely on the matter. However, this is largely saturated and not taken to the degree of concern that it should be. In addition, many of these news outlets often fail to talk about the important issue regarding the recent strikes in the railroad industry. Workers have been fighting for months to fix their work-life balance in addition to improving safety conditions regarding sufficient staffing, all while railroad corporations such as BNSF and Union Pacific are experiencing record-breaking profits and growth. 
But how does this tie into the common occurrence of train derailments? The answer to that is quite simple. These corporate giants are experiencing economic prosperity through mass labor cuts that are forcing workers to take on more time year after year. By continually making wage cuts in addition to forcing the less fortunate out of their jobs, rail workers are forced into accepting more time in order to make up for their lower pay and shortages within the industry. According to a testimony by Chairman Oberman of the Surface Transportation Board, from 2016 to 2022, the Class 1 railroads have cut their number of workers by 29% out of the 45,000 employees.  
In doing this, it leaves laborers increasingly fatigued and more of a danger to both themselves and others. This continual strain, coupled with the corporations' unwillingness to budge on reforms, has burdened the industries' workers significantly. This additional stress leaves workers more and more prone to causing derailment and accidents. In fact, train accidents caused by human error have risen to nearly 1/3 as of 2019. (railroads.dot.gov) According to data from the U.S. Bureau of Transportation Statistics and the Federal Railroad Administration, an average of 1,705 train derailments have occurred annually from the years 1990 to 2021.
Regardless of the many common wrecks that result in relatively low costs in damage, none have rivaled the severity of the several incidents within the past couple of weeks. Most prominently, the wreck involving the mass spillage of vinyl chloride and butyl acrylate, toxic and potentially deadly carcinogens, in the small town of East Palestine, Ohio has left a black plume of smoke and a hazardous cloud of contaminants. This Norfolk train was traveling through the small village on the way toward Conway, Pennsylvania, when it suddenly derailed, resulting in the release of thousands of pounds of vinyl chloride in order to prevent a greater catastrophe. This eventually led to the dayslong fire that not only brought mass contamination to the water and soil but, more importantly, the air. 
While residents were initially ordered to evacuate their homes, the order has since been lifted, with residents being instructed to return to their homes. This decision was not right. Since then, residents have reported a series of ailments, including rashes, nausea, trouble breathing, and other various illnesses, all of which are symptoms of high exposure to vinyl chloride. Various clinics and screenings have been created within the town to monitor the activity of illness and problems within the community.
While work is being done both by Norfolk Southern, the EPA, and other various agencies and organizations to clean up the affected areas, they have yet to complete the process by any means. While the EPA has also stated that contamination levels are labeled as safe for both the water and air within the area, studies and researchers have stated that these levels can still in fact pose a threat in the long term if they are to continue. 
This sort of catastrophe, even when it has been handled on a federal level with extreme precaution for the safety of local residents, shows just how potentially dangerous these incidents can be. Had even one aspect of this spillage been overlooked, it could have meant an ecological disaster far worse than what we have seen. The sheer importance of rail workers and their safety is an issue that needs to be addressed, and when they are overlooked, incidents like this happen. East Palestine, OH, Houston, TX, Paulsboro, NJ, Graniteville, SC, and so many more are grim examples of the consequences of oversight, and may those who have been affected all throughout the years serve as reminders that we must take action.