Can They Do It Again?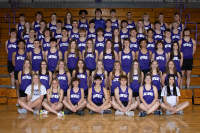 Once again, spring is here and the first track meet is right around the corner. The team has high expectations after dominating the state championship last year, and they are looking to defend that title for the third time. With several key athletes having graduated out of the program this year, the question of whether or not the team can do what they need to on May 26th and 27th is still up in the air. 
People have said that, with the loss of Chase Pogue and Dylan Sprecker, it will prove more difficult for the team to uphold the expectation to win. Coach Caselman clearly states in an interview with Joel Huffaker and Levi Allen: "I believe we can still win, expectations will not fall for this season even with the loss of those points." He then goes on to say, "Others will step up in a group effort to recover as many points as we can." It is important for a coach to hold these high expectations as well as confidence with the team. 
When asked if the field events were going to be improved for this year compared to last, Caselman said, "Last year, we were really young in that area. Now that some of those guys are in their second and third years, there should be pretty significant improvements." Tate Nurnberg took the team by surprise last year, making it to state in the high jump as a freshman in the high jump and triple jump. Tate fell short of scoring points for the team last year, but will definitely be looked at this year to contribute to the total throughout the season. 
Going into the season, at every competition, there is an expectation to win. They will definitely be looking to win every meet as they did last year. The competition has not changed much for the regular season, though there are some new faces at the state level. Wichita Trinity has the best distance score in the state with Shivley, Ferguson, and Hobson. They are, however, lacking in sprints, middle distance, and field events. Another team that Caselman says may compete against Southeast is Wichita Collegiate. Once again, this team has a solid distance group in the Meyer brothers. They are also a little stronger in their sprints and field events. One thing is guaranteed though, and that is that there are going to  be a lot of close finishes in the distance races between these three teams. 
Overall as a team, the Trojans are much more diverse in their events and are generally more dominant in these events as well. Going into the season there is no team that anyone knows of that would give Southeast of Saline a true scare. It is almost a guarantee that they will not let their guard down just because the competition mat seems slim. In the end, the question of whether or not the boys can defend their title is easy: yes they can.