Southeast students participate in alternative day
Jiu-jitsu, stress management, art, and yoga dominated the afternoon on Wednesday, Jan. 8, as four presenters led high school students in an alternative day. Participating in these activities, students learned different methods on how to deal with stress. 
While the alternative day was used as a time to put the books away and give students a break from all of the stress being brought on by school, lots of valuable lessons were learned. The skill of self-defense, stress management, and a variety of stress coping mechanisms were taught in the different presentations.  
Following are students' comments about the various sessions: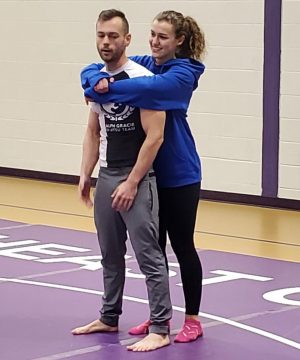 Nick Sparacino – jiu-jitsu
Erica Francis: "It was awkward but a good learning experience!"
Aaron Kitchener: "I had a good time learning the different moves, and it was kind of cool to actually be put in an armbar and feel what the real fighters feel during a fight!"
Luisa Ortega: "It was a little awkward having to do some of the stunts but I thought the information was valuable, so I got over it."
Pesha Ptacek –  stress management
Dorothy Ann Sparacino: "I thought that it was very interesting to learn about how important sleep is on a stressed teen's body because it's something we don't talk a lot about at school."
Madison Fear: "It wasn't the most action-packed part of the day, but it was very informational, and I learned a lot."
Mari Carlson – yoga
Ella Garver: "I really enjoyed how we could take a break from our school day and relax."
Tyler Breeding: "It was different because it's not something you do normally (or ever) but it helped me relax."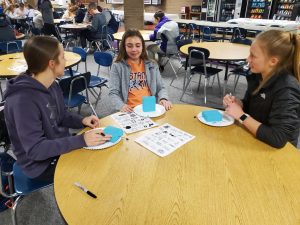 Corey and Megan Haden family – art project
Emmri Tanner: "I thought it was fun! It was a good socializing time too with friends!"
Meredith Tillberg: "Even though I am not an artsy person, after planning, I found that it is a great way to relieve stress."
Leave a Comment