Gilpin brings positivity to the volleyball court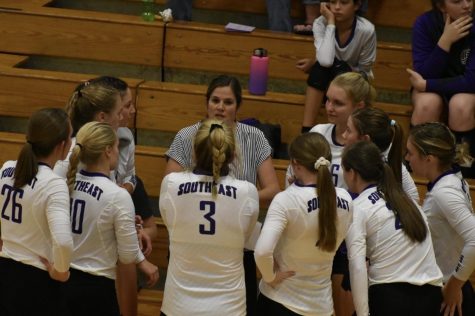 New head volleyball coach Ashley Gilpin hopes to bring positivity and love for the sport to the court. 
"My hope was to build the girls up and establish a positive climate. I wanted them to enjoy playing volleyball.  We're going to continue to build and maintain that positivity and hopefully make strides together as a team," she said. 
Gilpin believes she brings a gentle form of motivation to the sport, combined with knowledge from coaching at the high school and junior high level. 
"After graduating college, I lived in Texas for nine years where I taught English and coached volleyball and basketball.  I have also coached club volleyball at the junior high and high school level. When I moved back to Kansas, I coached youth sports and helped out with tennis at Central High School.  I also coached junior high basketball at Southeast. I've been involved as a coach in numerous capacities. This is my first head coaching job at the high school level," she said. 
Gilpin believes that her varied background at the high school and junior high level provides a foundation for her coaching but perhaps not the most important foundation. 
She values character and the positive spirit of her players rather than solely focusing on winning.
"We don't just talk about or work on winning.  We talk about and practice being good teammates and being good humans.  It's not all about volleyball," she said. 
The fact that Gilpin values character above sports doesn't mean that she doesn't like to win.
A memorable moment in Gilpin's season this far was the game against Minneapolis. 
"We had a long, tight match against Minneapolis (where I went to high school).  It went three sets, and we were down in the third. The girls didn't give up, and they came back and won.  I don't know if it was the best, but it was a lot of fun," she said. 
Gilpin is enjoying the season as they continue to improve.
"I believe we're in the rebuilding stage.  This year's team is a large part of that. We'll continue to get better, and each season, we'll grab a few more wins than the season before," she said. 
Even more important than winning or losing, Gilpin said, are positivity and determination.
"Our first tournament was at home, and there were several power teams.  We went 0-5, but at the end of the day, I remember Brooke Rohr saying, 'That was so much better than last year!' I couldn't believe it.  They just keep working hard and staying positive," she said.  
She noted that there was more work than anticipated but her love for the game keeps her excited.
"I knew it would be hard work.  What surprised me most, probably, are the everyday tasks that come my way like paperwork, communication, and record keeping.  Being in the gym is the easy, fun part. It's the day to day duties that add up more than I anticipated. I need to learn to delegate a little better, I think," she said. 
Gilpin's hard work and strives towards success this season has helped her determine what she needs to improve in the future seasons to come for the trojan volleyball team. 
"I have learned a lot of things from how to use key apps and share video with athletes to how to communicate better.  Communication is key on and off the court. Anytime we're building relationships and building programs, we have to learn to talk to one another in a positive way.  Our reactions to each other and to situations sometimes are not our best. But if we keep making efforts to get better and talk it out, we'll continue to grow and make progress.  It's challenging, but it's fun," she said. 
Gilpin has worked hard this season to make a mark on each of her players through a positive atmosphere during practice and games. 
"I hope to make a positive impact on each player."
Leave a Comment