Underdog football team finds success
Friday Night Lights make up a majority of the buzz around high schools across America, and ours is no different, especially this year when the hype is building around the 5-1 Southeast of Saline football team. 
With the Trojans loss of 13 seniors last year, many thought that this season could be a lackluster reload, but the team impressed many with blowout wins over Russel, Saint Mary's, and Sacred Heart. 
Perhaps the biggest feat of the season so far has been defeating Beloit in a 20-12 thriller. Not only did they take down a rival, but they did it at said rival's home field, a place they haven't won in 15 years. 
"Breaking a 15-year losing streak at Beloit felt amazing. We were underdogs, and everyone, including last year's seniors, thought we would get killed," said junior captain Sterling Harp.
The team is rising from the ashes through the guidance of a few seniors and a star-studded junior class. 
The juniors are remarkable on both sides of the ball. Jaxson Gebhardt is starting quarterback and has a solid defensive presence at safety. 
Bryant Banks leads the squad in rushing while also contributing tackles. 
Eli Harris plays receiver on offense and linebacker on defense. He was also featured on Sports in Kansas for his punting ability. 
Tyler Breeding also plays Harris's positions and leads the team in receiving yards. 
Last, but certainly not least, are Sterling Harp and Logan Sanders, two powerful junior linemen on both sides of the ball.
Of the six team captains, five are juniors, further showing their athletic and leadership abilities. Other players who have stepped up include sophomore middle linebacker Matthew Rodriguez. "Matthew is a guy who has stepped up all around," said senior Aaron Kitchener. 
He  is a menace on defense, leading the team in tackles. 
With the teams success comes optimism towards the postseason. 
"I believe our team will peak at the right time and make a deep run into the playoffs," Kitchener said. "I think this team has a lot of heart and grit, and our chances to make it to the state championship are good as long as we play at a high level."
About the Writer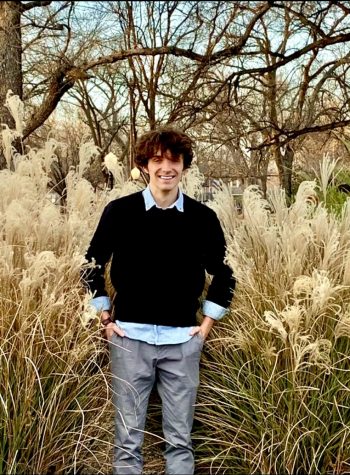 Drew Hanson, Lead Editor
Drew Hanson is a Lead Editor for the Trojournal. He is also involved in Speech and Drama, Lincoln-Douglass Debate, NHS, CIEE CBYX, and Cross Country. He...