Students use time while staying home to make major changes to hair
Covid-19 has brought about many changes in the world… including many people changing their hair. Without the worry of a hairdo gone bad being seen by the public due to the stay-at-home order, a handful of Southeast of Saline students turned to scissors and box dye. 
Three juniors — Makenna Bartholomew, Carter Smith, and Kylar Dewhirst — decided to dye their hair pretty quickly after school was called off for the rest of the semester. 
"We did it right after it was announced that school was closed for the rest of the year. Carter Smith, Makenna Bartholomew, and I were in Bogey's parking lot. We knew that prom wasn't going to happen and we decided … because why not? We had seen so many TikToks of people doing it," Dewhirst said.
Dewhirst and Bartholomew dyed their hair purple, and Smith bleached his hair blonde.
"I bleached (my hair)," Smith said, "The fact that almost no one would see it and that I was very bored contributed heavily."
Most of his classmates will not see his hair due to social distancing guidelines, but there were still a few people that have seen it.
"No one hated it except maybe my mom because I didn't tell her I was doing it. A customer at sonic said she liked it," he said.
While Smith's mom was surprised at his major hair change, this wasn't Bartholowmew's first big hair change in her life.
"I really like playing around with different styles to see what I like. The craziest thing I have done is when I just woke up one day and wanted short hair and then within the next hour, seven inches were gone," she said.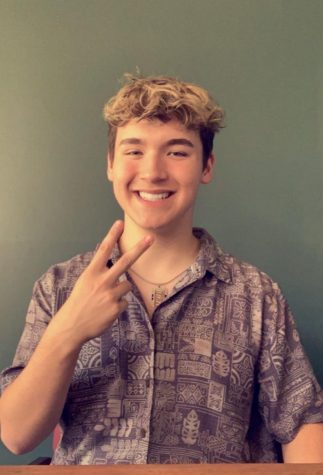 While the purple dye didn't last long before the girls had to dye their hair back to brunette, another student, Braedon McVay, along with Smith, chose a more permanent hair change.
"I got blonde highlights," he said. "It will probably last around three or four months."
There is also one student that decided to cut her hair while being stuck at home. Jocelyn Pembleton had her mom give her bangs.
"I have wanted bangs for about a year now, and I thought that this would be a good time because nobody would see me during the lockdown," she said. "It will take a very long time for the hair to grow back."
While most of the feedback she got about her bangs was positive, she has discovered that she prefers her hair without them.
"I think that the bangs look fine, but I prefer my hair normally," she said.
Leave a Comment